In the spirit of sustainability and support of UBC's own innovators, a sunlight collection system, created by UBC Physics Prof. Lorne Whitehead and licensed to Vancouver-based SunCentral Inc., is at the core of a $61.8 million makeover of the UBC Biological Sciences Complex. The collection system channels sunlight into powering three labs, with automatic adjustments depending on time of day and amount of light needed.
Related Content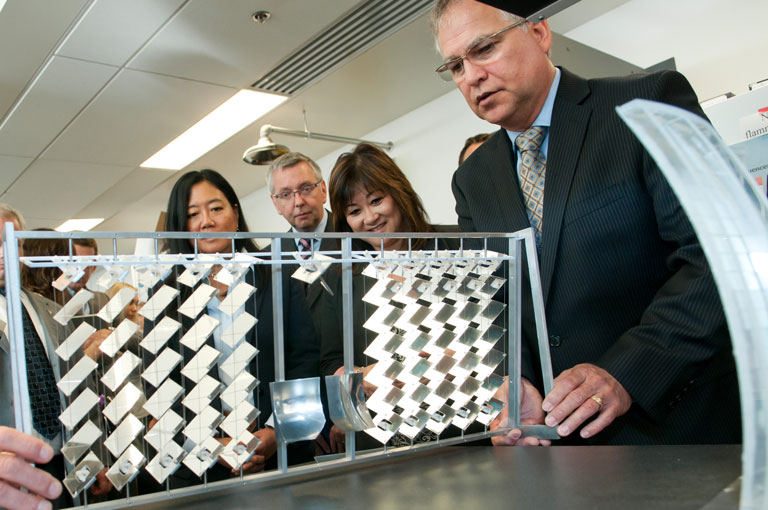 Associated Campus
Vancouver Campus
Twitter
Patrick Condon, professor of urban design at @UBCSALA on how land speculation as a result of city policies drives i… h
ttps://t.co/b5SR1eerl7
1 day ago.
Study by @UBCNursing @carlathilario explores how feelings of failure impact mental health of immigrants in the Metr… h
ttps://t.co/Avfg1T712O
1 day ago.
RT @UBCSALA: We're pleased to announce the winner of the 2017 Margolese National Design for Living Prize is Anne Cormier, of @UMontreal and…
1 day ago.
RT @ubcengineering: Heard of @CryptoKitties? These digital cats are built on blockchain technology and have sold for over $100,000. Develop…
1 day ago.
"Researchers Are Using Tweets to Identify Transit Snarls" Applied Science postdoc researcher Saied Allahdadian uses… h
ttps://t.co/E0cM14MWle
1 day ago.
RT @MensHealthUBC: "I am constantly amazed by, and so disheartened to learn about, the struggles that students deal with." Read how UBC lec…
2 days ago.
Congratulations Anne Cormier, recipient of @UBCSALA's 2017 #Margolese National Design for Living Prize!… h
ttps://t.co/D56oTMlURM
2 days ago.
Professor Banthia works tirelessly with @ubcengineering and @ICIMPACTS to make the world a better place for those i… h
ttps://t.co/cgA9UCjVDb
4 days ago.
RT @CIHR_IRSC: .@salthorne @UBCNursing - Shaping a positive patient experience with carefully developed competent communication skills http…
4 days ago.
Professors from @UBCNursing and @UBCscarp have received grants of nearly half a million dollars from @SSHRC_CRSH fo… h
ttps://t.co/z6NoIrg677
4 days ago.
Learn More
Achieved Milestone
Building Opening