In the spirit of sustainability and support of UBC's own innovators, a sunlight collection system, created by UBC Physics Prof. Lorne Whitehead and licensed to Vancouver-based SunCentral Inc., is at the core of a $61.8 million makeover of the UBC Biological Sciences Complex. The collection system channels sunlight into powering three labs, with automatic adjustments depending on time of day and amount of light needed.
Related Content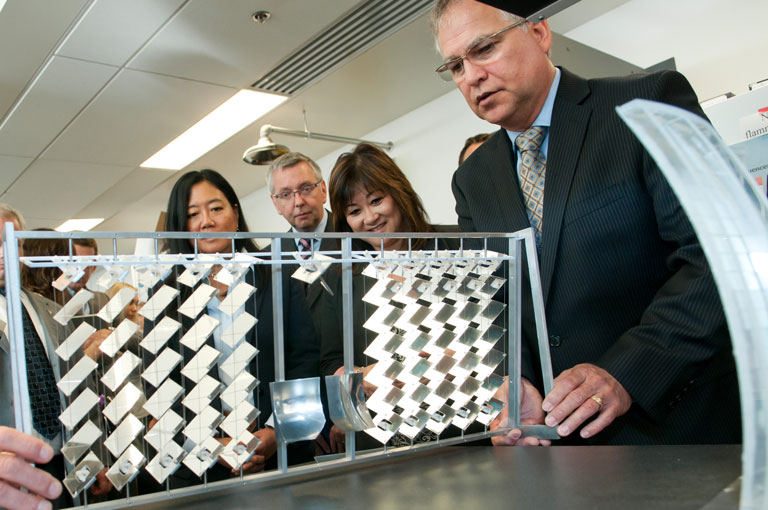 Associated Campus
Vancouver Campus
Twitter
Discovering a passion for design with #SALA: How students and faculty found inspiration for careers in design… h
ttps://t.co/ibd0AkFvfS
1 day ago.
RT @BCCHresearch: Smartphone-based, incredibly powerful, inexpensive... Why Dr. Guy Dumont says #votebcchf. @eceubc @ubcappscience https:/…
1 day ago.
Learn how ecology can guide urban design. Ecodesign for Cities and Suburbs is a free #UBCx online course on #edX! h
ttps://t.co/OMrUaPgkmd
1 day ago.
Learn how Elizabeth's passion for #biomedical #engineering grew while working at BC Cancer Research Centre… h
ttps://t.co/CqdMAbHQ95
2 days ago.
This is what #UBC engineering students have done about decades of boil-water advisories in Lytton… h
ttps://t.co/9Q0fdLlcfU
2 days ago.
Through his Co-op work, Radu Postole learned how to apply what he learned at @UBC to real-world contexts:… h
ttps://t.co/zB1r1ri0W5
2 days ago.
RT @UBC_CTLT: Interested in #TeamBasedLearning? Register for @ubcappscience's workshop on May 16 & 18 h
ttps://t.co/sK4NSbkaMw
#UBC #FacDev…
2 days ago.
RT @CARIC_aero: #CARIC17 First day: Participate at the Pre-Forum activities with @ubcappscience and @GARDN_aero! h
ttps://t.co/gu3PWML2V9
3 days ago.
RT @ApscMarc: Margolese National Design for Living Prize: Sylvia McAdam Friday 6:30 pm @ubcappscience @UBCSALA h
ttps://t.co/tQFl6UuOND
3 days ago.
Learn More
Achieved Milestone
Building Opening