In the spirit of sustainability and support of UBC's own innovators, a sunlight collection system, created by UBC Physics Prof. Lorne Whitehead and licensed to Vancouver-based SunCentral Inc., is at the core of a $61.8 million makeover of the UBC Biological Sciences Complex. The collection system channels sunlight into powering three labs, with automatic adjustments depending on time of day and amount of light needed.
Related Content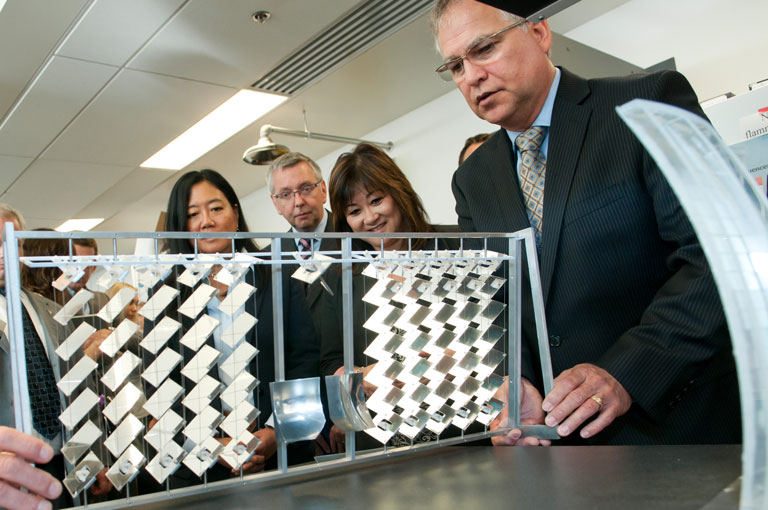 Associated Campus
Vancouver Campus
Twitter
Did you know 90% of the products moving in the world travel via sea? #EngineerYourFuture with the Master of Enginee… h
ttps://t.co/x6ILYXh6N7
about 8 hours ago.
DON'T MISS IT: Celebrated Canadian architect Anne Cormier, 2017 recipient of the Margolese National Design for Livi… h
ttps://t.co/444tZHWIKv
about 12 hours ago.
What kind of city do we want? @UBCSALA professor Patrick Condon asks this question and more in "Viewpoint: Subway F… h
ttps://t.co/wYAONpa070
1 day ago.
Master of Engineering Leadership students Kevin Chen and Allen Sebastian along with teammates from @UBCSauderSchool… h
ttps://t.co/inASTnjW7r
1 day ago.
RT @ecoscope_ubc: Our @Biodesigned team is hard at work. New organisms in the @HallamLab, new media in storage, and kitchen implements on t…
1 day ago.
It's time to lower speeds on B.C.'s highways, says @UBCOSOE engineering associate prof Gord Lovegrove. "If we value… h
ttps://t.co/nZXs3hxi2t
1 day ago.
RT @ubcengineering: Congratulations @_tamerm, CEO of @aspectbiosys, who was awarded @bcbusiness's #30Under30 award! Tamer received his BASc…
1 day ago.
Not only does co-op provide relevant full-time work experience while in school, it can also count for 12 months of… h
ttps://t.co/5C7s7VmtJh
1 day ago.
CONTEST ALERT!! #UBC #Engineering Co-op and @CEWILCanada would like to hear YOUR co-op story! Share your experience… h
ttps://t.co/5MsDWcgiWU
2 days ago.
It's National #CoopWeek! Did you know that 3 of 4 new engineers in the province come from @UBC? Find out more about… h
ttps://t.co/F1r8N38eF2
2 days ago.
Learn More
Achieved Milestone
Building Opening