In the spirit of sustainability and support of UBC's own innovators, a sunlight collection system, created by UBC Physics Prof. Lorne Whitehead and licensed to Vancouver-based SunCentral Inc., is at the core of a $61.8 million makeover of the UBC Biological Sciences Complex. The collection system channels sunlight into powering three labs, with automatic adjustments depending on time of day and amount of light needed.
Related Content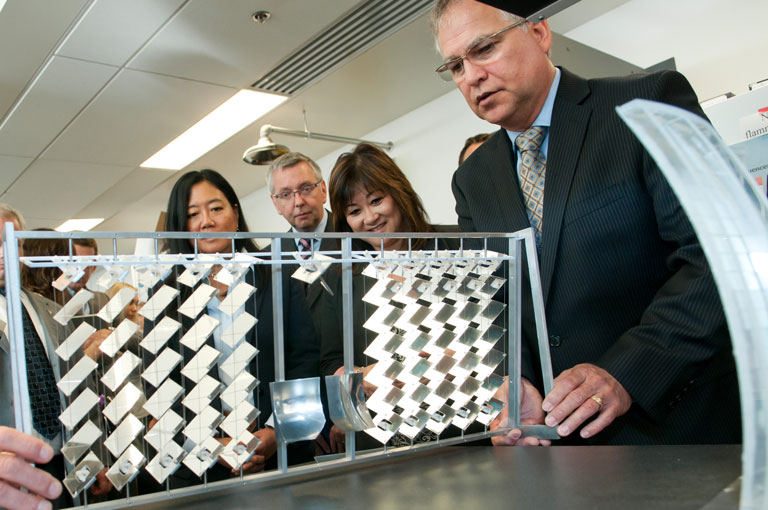 Associated Campus
Vancouver Campus
Twitter
RT @UBCSALA: There's some familiar work on the homepage of dbXchange...#UBCSALA #SALAGambier h
ttps://t.co/E62bYXMSKY
about 18 hours ago.
RT @DudocVancouver: Researchers @UBC discover more trees reduce home #energy consumption. #UrbanDesign #Vancouver #EnergyEfficiency https:/…
about 20 hours ago.
RT @UBC: Nine #UBC researchers have attracted a combined $23.4m in the latest round of Foundation Grants from @CIHR_IRSC. h
ttps://t.co/rsAR…
about 22 hours ago.
RT @ubcprez: UBC Masters or Final Year PhD students. Consider David Suzuki Fellowships h
ttps://t.co/1Fki9U65BU
about 22 hours ago.
.@UBCNursing prof @ElizabethSaewyc's @SARAVYC receives major @CIHR_IRSC grant to narrow health gap for LGBTQ youth… h
ttps://t.co/ldOjXkOwcx
1 day ago.
RT @ubconews: .@ubcengineering and @AccelerateOK create new way for renters and landlords to connect with @happipadrent h
ttps://t.co/RMQoK7…
1 day ago.
Keep the Arbutus Corridor for Cyclists and Walkers, op-ed piece by @UBCSALA professor Daniel Roehr:… h
ttps://t.co/NdMq7tNTa4
1 day ago.
RT @nbanthia: Loved teaching #MaterialsScience to students from 6 countries during #Vancouver Summer Program at @ubc !! @UBCCivilEng #VSP @…
1 day ago.
The Riverview Village Intentional Community Society is hiring a Research and Design Intern! Info here: h
ttps://t.co/2aAy3q5p7r
via @UBCscarp
4 days ago.
RT @ubcengineering: Hoping for UBC Integrated Engineering alum Victor Chan to return to the Lower Mainland! via @BIVnews @ubcnews https:/…
4 days ago.
Learn More
Achieved Milestone
Building Opening