Micro Electro Fabrication Facility
With the ability to fabricate devices as small as one-millionth of a metre, the new Micro Electro Fabrication facilities at UBC's Okanagan campus provide state-of-art tools for a new generation of engineering students. The labs and faculty also create solutions for wide scope of industry and community partners.
Related Content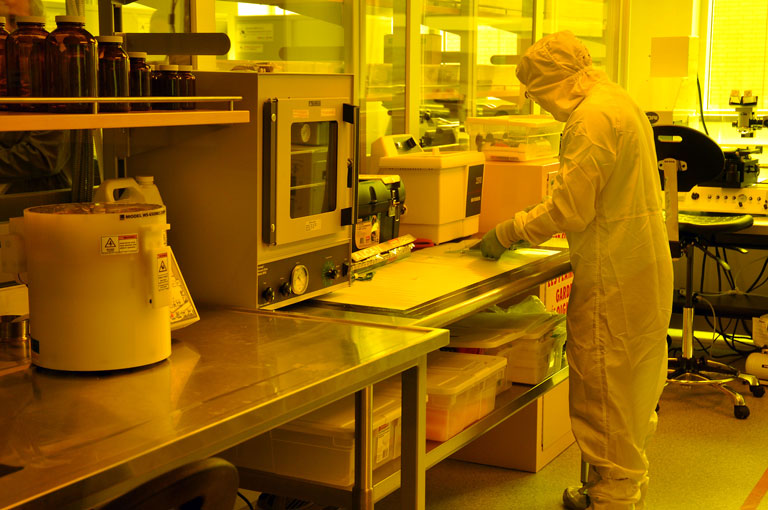 Associated Campus
Okanagan Campus
Twitter
Think you might have #FOMO? See how @CHBEUBC grad Clinton let his FOMO take him to a co-op term in Sweden, where he… h
ttps://t.co/I9U0AEOXz4
about 5 hours ago.
THREE @ubcentrepreneur ventures have been added @readytorocket's Cleantech Emerging Rocket List! Congratulations… h
ttps://t.co/aamFqLjlfQ
about 12 hours ago.
Have you dreamt of building an airplane? Which materials would you start with? For the first time in BC, aspiring… h
ttps://t.co/HRg6dHNTsQ
1 day ago.
RT @ubcappscience: Master of Engineering Leadership students Kevin Chen and Allen Sebastian along with teammates from @UBCSauderSchool have…
1 day ago.
RT @ubcappscience: It's time to lower speeds on B.C.'s highways, says @UBCOSOE engineering associate prof Gord Lovegrove. "If we value huma…
1 day ago.
Congratulations @_tamerm, CEO of @aspectbiosys, who was awarded @bcbusiness's #30Under30 award! Tamer received his… h
ttps://t.co/1tmhuzr53H
1 day ago.
Not only does co-op provide relevant full-time work experience while in school, it can also count for 12 months of… h
ttps://t.co/dcJBqumqG1
1 day ago.
RT @Belkin_Gallery: @ubcengineering Capstone students working on Geoffrey Farmer's bell piece #outdoorart @ubcartsculture h
ttps://t.co/SuYt…
1 day ago.
#Spring into National #CoopWeek today with Timbits in the Kaiser atrium from 11:30 - 1, while quantities last!… h
ttps://t.co/hqrpETFKaS
1 day ago.
Achieved Milestone
Building Opening