Micro Electro Fabrication Facility
With the ability to fabricate devices as small as one-millionth of a metre, the new Micro Electro Fabrication facilities at UBC's Okanagan campus provide state-of-art tools for a new generation of engineering students. The labs and faculty also create solutions for wide scope of industry and community partners.
Related Content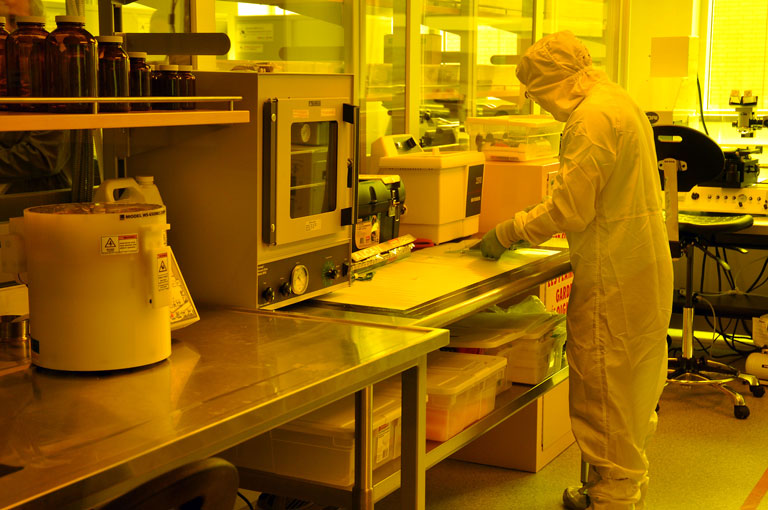 Associated Campus
Okanagan Campus
Twitter
RT @ubcappscience: Great to see smart bra @vitali_wear created by @ubcengineering alum Cindy Gu in @Allure_magazine! h
ttps://t.co/mNq6ls…
2 days ago.
#WomenInSTEM is Rising Star Jeanie Malone's passion from @engcite & @GeeringUp to @UBCEngineers & more… h
ttps://t.co/uzFenzKXfj
2 days ago.
.@ubconews has given Rising Star Blago Hirstovski the tools to become his dream- an aerospace engineer… h
ttps://t.co/do9om8zOAL
2 days ago.
Huge congrats to @UBC mechanical engineering alum and @AwakeLabs CEO @aehpalmer for becoming an #ONtrepreneur! h
ttps://t.co/zqfOsg2vf6
3 days ago.
RT @UBC: On National Aboriginal Day, we acknowledge the diverse cultures, heritage and achievements of First Nations, Inuit and Métis. #NAD…
3 days ago.
It's #YogaDay2017! @vitali_wear wouldn't be where it is today if it weren't for Cindy Gu's connection with yoga:… h
ttps://t.co/dDCOfHGRI6
3 days ago.
Rising Star Mark Bancroft wanted to inspire future UBC engineers so of course he joined @UBCEngineers!… h
ttps://t.co/w6Ub358syU
3 days ago.
Rising Star Jessica Van Brummelen didn't think she'd be an engineer. Now she's on her way to @MIT!… h
ttps://t.co/sKaNW4MBYf
4 days ago.
From bachelors to PhD, Rising Star Saad Dara cultivated his passion for chemical engineering at UBC… h
ttps://t.co/oLSZERYN3n
4 days ago.
Achieved Milestone
Building Opening