Micro Electro Fabrication Facility
With the ability to fabricate devices as small as one-millionth of a metre, the new Micro Electro Fabrication facilities at UBC's Okanagan campus provide state-of-art tools for a new generation of engineering students. The labs and faculty also create solutions for wide scope of industry and community partners.
Related Content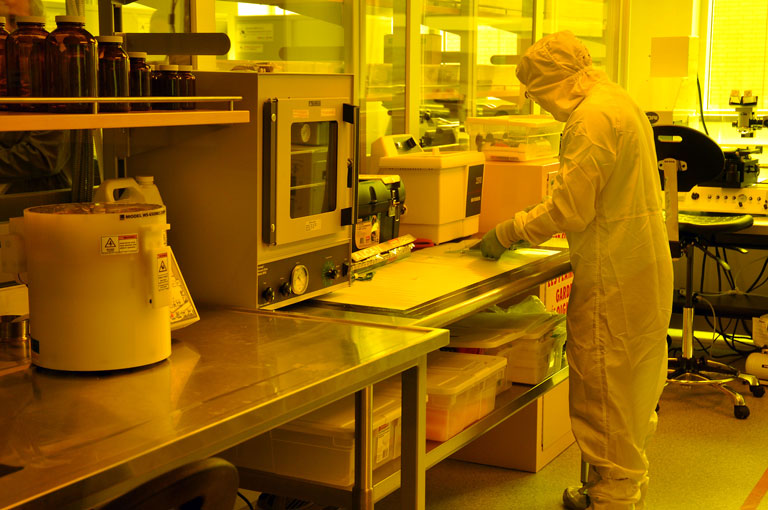 Associated Campus
Okanagan Campus
Twitter
There is only 1 month left to submit your application to UBC! Curious about Engineering? Learn more on… h
ttps://t.co/Oa3iK6BPBa
1 day ago.
RT @UBCSLC: Congratulations to our next Showcase Winner, @GeeringUp at UBC! They provide student-delivered programs dedicated to promoting…
1 day ago.
Heard of @CryptoKitties? These digital cats are built on blockchain technology and have sold for over $100,000. Dev… h
ttps://t.co/400ITy2r5e
1 day ago.
RT @ubcappscience: "Researchers Are Using Tweets to Identify Transit Snarls" Applied Science postdoc researcher Saied Allahdadian uses AI t…
1 day ago.
RT @UBCOaboriginal: You can be an Engineer. Aboriginal students and communities, contact us to learn more about becoming an @ubcEngineering…
1 day ago.
RT @CMCMicrosystems: Registration is open for Actives #SiliconPhotonics Workshop. @ubcengineering h
ttps://t.co/QTDvd1tqH7
#CNDN #cdninnovat…
2 days ago.
RT @LauraMDMaguire: Know a company that who loves supporting #science and #engineering in #BritishColumbia? Spread the word and support th…
2 days ago.
RT @alumniubc: UBC professor @nbanthia, PhD'87, has led the development of a self-healing concrete that could dramatically improve infrastr…
4 days ago.
RT @ubcnews: Ada the sailbot -- built by #UBC students -- rescued at sea after a year adrift h
ttps://t.co/vnJAw6Ahgt
via @NorthShoreNews ht…
4 days ago.
.@ECEUBC alum and adjunct professor Shahram Tafazoli's @motionmetrics uses machine learning to improve mining pract… h
ttps://t.co/hKzSakMdeI
4 days ago.
Achieved Milestone
Building Opening