In the spirit of sustainability and support of UBC's own innovators, a sunlight collection system, created by UBC Physics Prof. Lorne Whitehead and licensed to Vancouver-based SunCentral Inc., is at the core of a $61.8 million makeover of the UBC Biological Sciences Complex. The collection system channels sunlight into powering three labs, with automatic adjustments depending on time of day and amount of light needed.
Related Content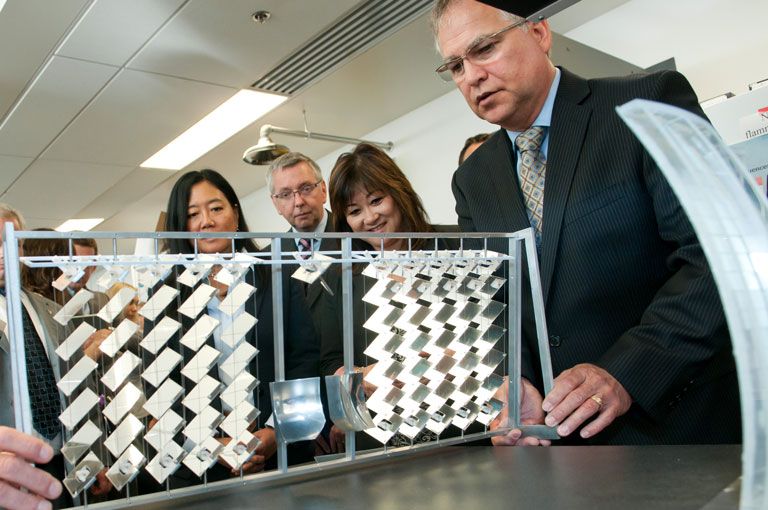 Associated Campus
Vancouver Campus
Twitter
RT @ubcengineering: Congratulations to APSC researchers Mattia Bacca, Jordi Honey-Roses, Carlos Molina Hutt and Lyndia Wu on their @SSHRC_C…
about 16 hours ago.
RT @Shcampbell27: Nurse Innovation: Saving the Future of Healthcare | Rebecca Love | TEDxB... h
ttps://t.co/Ilq06tD6Oq
via @YouTube inspirin…
about 16 hours ago.
Discover cutting-edge clean technologies + solutions at the #CEMMI2019 Innovation Showcase on May 28 & 29. Free adm… h
ttps://t.co/OceIjpHFBk
about 16 hours ago.
In honour of #BCMiningMonth, this week we are highlighting APSC's 2019 graduate Rising Stars from Mining. Congratul… h
ttps://t.co/XH19KWYJQd
about 19 hours ago.
Free and open to the public, SALON 2019 is a multi-day exhibition of works from recent UBC School of Architecture a… h
ttps://t.co/nhXEvdjCJO
1 day ago.
.@UBCSALA's graduating Environmental Design class is hosting a one-day exhibition on campus at the Hatch Art Galler… h
ttps://t.co/gACA5Q6kWq
1 day ago.
RT @UBCNursing: Don't miss this report on health promotion interventions for Indigenous women who have experienced intimate partner violenc…
1 day ago.
RT @loubosshartubc: Cannabis legalization is good policy decision and is grounded in available evidence and recognizing the harms under pro…
1 day ago.
RT @UBCNursing: #SoNResearch: SoN Faculty Dr. Varcoe & Browne were featured in Wiley's #IND2019 collection! Read 'Drawing on antiracist app…
1 day ago.
Hailey Gooch is a landscape architecture (@UBCSALA) graduate with a passion for investigating static representation… h
ttps://t.co/POHcpQCqHn
1 day ago.
Learn More
Achieved Milestone
Building Opening