In the spirit of sustainability and support of UBC's own innovators, a sunlight collection system, created by UBC Physics Prof. Lorne Whitehead and licensed to Vancouver-based SunCentral Inc., is at the core of a $61.8 million makeover of the UBC Biological Sciences Complex. The collection system channels sunlight into powering three labs, with automatic adjustments depending on time of day and amount of light needed.
Related Content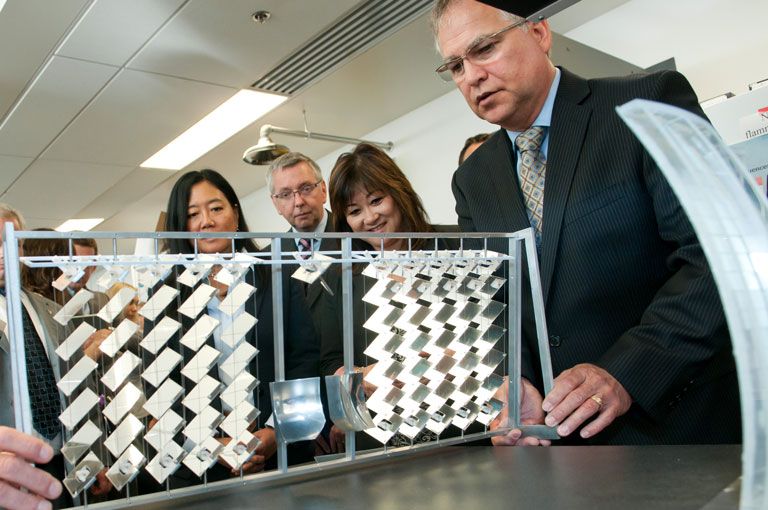 Associated Campus
Vancouver Campus
Twitter

Innovative and imaginative, #UBC's Third Quadrant Design student design team partnered with @LedcorGroup and others… h
ttps://t.co/CMdrAHfRic
1 day ago.

With a Canada First Research Excellence Fund grant of $83.6M, the Accelerating Community Energy Transformation (ACE… h
ttps://t.co/4VI5HkR8lt
3 days ago.

RT @ubcengineering: Congratulations to #UBCEngineering Prof. Peter Ostafichuk, on receiving the @EngineersCanada 2023 Medal for Distinction…
4 days ago.

Congratulations to Third Quadrant Design (TQD) for being named a Grand Champion and placing third at the 2023 US… h
ttps://t.co/yJzh6h6Ow9
4 days ago.

The #UBC MHLP online information session on June 1 is an easy way to learn more about the professional leadership p… h
ttps://t.co/aLPMgdkavO
4 days ago.

RT @UBCNews: Faculty and students from @ubcappscience school of architecture and landscape architecture are among Canada's national represe…
4 days ago.

RT @UBC_IDEALab: We are so excited to announce that Dr. Lillian Hung @nurselillian is presenting at the World Ageing Festival @ageingasia i…
6 days ago.

RT @la_Biennale: #BiennaleArchitettura2023 | #PreOpening National Participations 19.05, 12:00 CANADA NOT FOR SALE! Giardini -1 day to #Th…
19 May, 23


"The fight we are trying to launch, with this campaign for non-alienated housing, is really to help people understa… h
ttps://t.co/ed1HJXK1LQ
18 May, 23
Learn More
Achieved Milestone
Building Opening