In the spirit of sustainability and support of UBC's own innovators, a sunlight collection system, created by UBC Physics Prof. Lorne Whitehead and licensed to Vancouver-based SunCentral Inc., is at the core of a $61.8 million makeover of the UBC Biological Sciences Complex. The collection system channels sunlight into powering three labs, with automatic adjustments depending on time of day and amount of light needed.
Related Content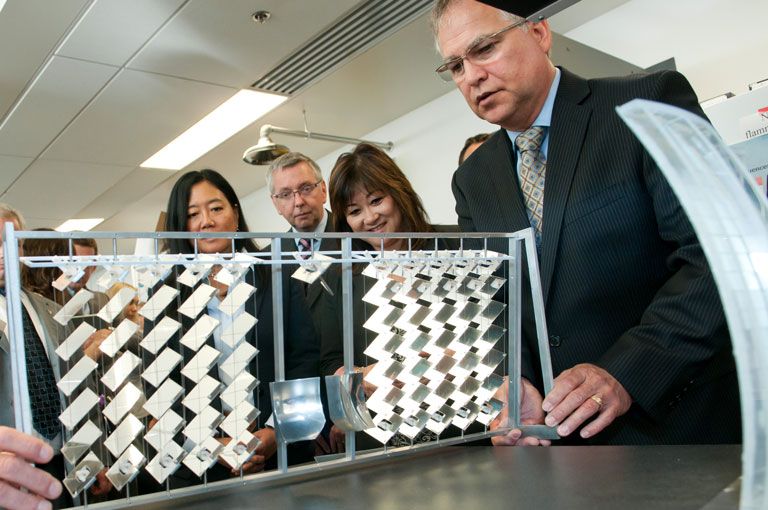 Associated Campus
Vancouver Campus
Twitter
Introducing… Your Next Step! A collection of resources for recent grads and alumni navigating career changes, Your… h
ttps://t.co/GzTiiIS35H
about 10 hours ago.
Thank you to @UBCSCARP's Lindsay Clark for these words of wisdom! To all recent (and not so recent) grads, remember… h
ttps://t.co/xOrFo8WHm2
5 days ago.
RT @BrookingsEcon: New from the Hutchins Center: A proposal for a quality-adjusted producer price index for highway construction. Read it h…
6 days ago.
Did you know that the @GeeringUp team has been busy since social distancing measures were introduced? These past… h
ttps://t.co/E6GuE8DwdQ
6 days ago.
RT @ElizabethSaewyc: Another take on our @SARAVYC research: Shining Light on What Makes LGBTQ2S+ Youth Feel Safe in a Community via @TheTy…
6 days ago.
It's amazing to see three APSC projects featured here! Thank you to the students, alumni, faculty and donors who ma… h
ttps://t.co/obhDg7Md9L
1 Aug, 20
Looking to move your disruptive startup idea to impact? Apply for @ubcentrepreneur's CORE venture building stream!… h
ttps://t.co/heX1JK7KLk
1 Aug, 20
Some great words of advice from Garner Lea from @UBCengineering to the 2020 grads! As well as the relationships you… h
ttps://t.co/IFeYTMkYi5
31 Jul, 20
It's fantastic to see APSC alumni changing the world! Since graduating last year, Nicholas Hui co-founded… h
ttps://t.co/Jwybfaxd4A
31 Jul, 20
Learn More
Achieved Milestone
Building Opening