In the spirit of sustainability and support of UBC's own innovators, a sunlight collection system, created by UBC Physics Prof. Lorne Whitehead and licensed to Vancouver-based SunCentral Inc., is at the core of a $61.8 million makeover of the UBC Biological Sciences Complex. The collection system channels sunlight into powering three labs, with automatic adjustments depending on time of day and amount of light needed.
Related Content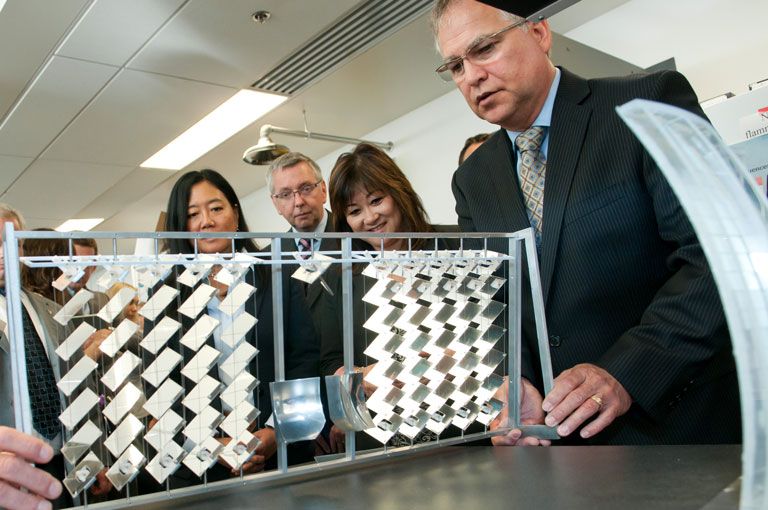 Associated Campus
Vancouver Campus
Twitter
RT @ubcnews: MEDIA RELEASE: Men's health expert and @UBCNursing Prof John Oliffe shares 8 tips for promoting men's health h
ttps://t.co/WJmb…
4 days ago.
RT @ubcengineering: Every year, 1.25M people die in road crashes worldwide. Leading international experts including @UBCCivilEng prof Tarek…
4 days ago.
RT @UBCGradSchool: Join us Nov 18 from 5-7PM for a screening of two UBC graduate student short films! All proceeds benefit @UBCUnitedWay. R…
4 days ago.
Want to learn about LS9, Inc, a biotech company that uses synthetic biology to produce a broad platform of chemical… h
ttps://t.co/cze4kFBIfW
4 days ago.
RT @ubcengineering: The UBC International Road Safety Symposium begins today! Featured speakers include @UBCCivilEng prof Tarek Sayed and M…
4 days ago.
RT @UBCNursing: Did you know that 2 out of 3 children in hospitals undergo painful procedures without any pain management? This National Pa…
5 days ago.
RT @ubcequity: Is it time to wave the flag? Join @ubcprez for the next #UBCDialogues as 2SLGBTQIA+ leaders and advocates share their vision…
5 days ago.
RT @vickybungay: Congratulations Thyanthini and her committee members @Shcampbell27 @wendyha65734663 @brownhelenjean. Great to see this acc…
5 days ago.
RT @UBCNursing: #SoNResearch "Nursing Now or Never." New publication in the Nursing Inquiry from Sally Thorne. Read it online at: h
ttps://t…
5 days ago.
RT @UBCNursing: REGISTER: "The best way to predict the future is to co-create it" & "The future is now." Marion Woodward Lecture 2019 and p…
5 days ago.
Learn More
Achieved Milestone
Building Opening