In the spirit of sustainability and support of UBC's own innovators, a sunlight collection system, created by UBC Physics Prof. Lorne Whitehead and licensed to Vancouver-based SunCentral Inc., is at the core of a $61.8 million makeover of the UBC Biological Sciences Complex. The collection system channels sunlight into powering three labs, with automatic adjustments depending on time of day and amount of light needed.
Related Content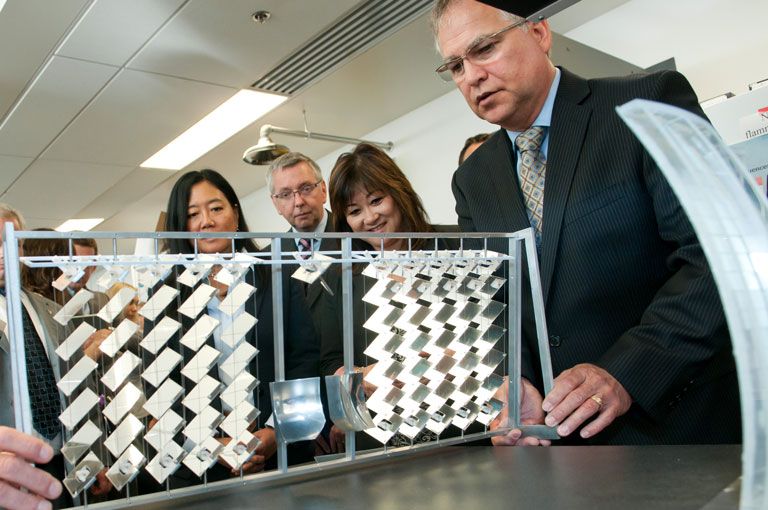 Associated Campus
Vancouver Campus
Twitter

RT @UBC: Today is Trans Day of Visibility. Arig al Shaibah, Associate Vice-President, Equity and Inclusion, recognizes trans leadership at…
about 17 hours ago.

RT @JamesDeanAPSC: Congratulations to Associate Dean @sherylsf12 on your iron ring! Ethics and Professionalism define engineering and @ubca…
about 17 hours ago.

The #UBC MHLP online information session on April 4 is an easy way to learn more about the professional leadership… h
ttps://t.co/7HC7Wllzly
1 day ago.

RT @ubcentrepreneur: @UBCBionics @mend_gap @sukhneet_d @SBME_UBC @ECEUBC @ubcappscience 🙌
3 days ago.

Recognize a colleague who makes #UBC a great place to learn, research, or work. Nominations for the 2023 President'… h
ttps://t.co/dxq2gqy3Cj
3 days ago.

.@ubcengineering is working to increase female representation in student enrolment and faculty. Associate Dean of E… h
ttps://t.co/WVCHLefr1g
4 days ago.

.@ubccivil Professor Dr. Tony Yang is leading a multi-university research project in carbon-neutral, disaster-resil… h
ttps://t.co/5SDDpRMkR6
4 days ago.

RT @JamesDeanAPSC: I am giving a lecture at Thompson Rivers University (where I started my post secondary journey as a student - then Carib…
6 days ago.

Even if it takes decades or centuries for cities to change their relationship with water, the important thing is th… h
ttps://t.co/VmUbZokt41
8 days ago.

RT @FatemehAsadi14: Are you concerned about the impact of #forever_chemicals on water quality? Our team has developed solutions that will m…
8 days ago.
Learn More
Achieved Milestone
Building Opening