Lace Up for the Kids
In the past five years, UBC students have helped raise over $200,000 for BC Children's Hospital through the Lace Up for Kids fundraiser. This fun annual event brings students together to skate 50,000 laps of the Doug Mitchell Winter Sports Centre, and raises money for the BC Children's Hospital Foundation in support of the Rare Disease Foundation and Rare Disease/Translational Research.
Related Content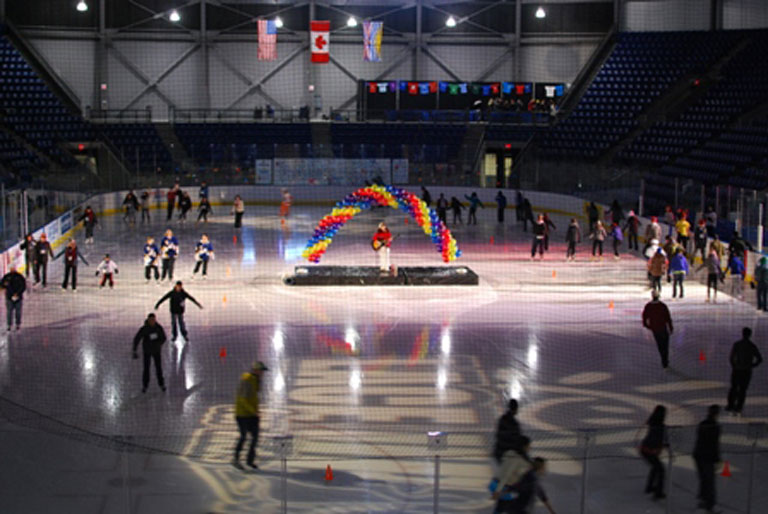 Associated Campus
Vancouver Campus
Twitter
As of Monday, July 13, the #UBC Aquatic Centre and the BirdCoop Fitness Centre will re-open with limited or reduced… h
ttps://t.co/u0lhzUsEhq
about 22 hours ago.
Registration for #UBC summer camps is open! From arts 🎨 & music 🎵 to biking 🚲 & skateboarding 🛹 , there are numerou… h
ttps://t.co/jNlN4Qnn9q
1 day ago.
The @ubc_baseball Rose Indoor Training Centre is open with limited hours for one-on-one instruction for hitting, fi… h
ttps://t.co/dRXzZfDLTb
2 days ago.
RT @UBC: UBC Vancouver, share with us where you will be learning from this fall. We invite all our first year incoming students to register…
2 days ago.
RT @ubctbirdarena: Ice is back in our Protrans Rink ⛸️ Summer camps for skating, agility, skills, stickhandling and shooting are open for…
2 days ago.
A reminder to maintain a physical distance of 2m from others as our facilities and programs begin to restart. 👤 <-… h
ttps://t.co/VvNgLtOvm7
3 days ago.
Register in advance for drop-in badminton or table tennis at the SRC, outdoor yoga classes, or book tennis courts a… h
ttps://t.co/mI9UFPeTPQ
3 days ago.
🌲 Join the @UBCgarden for a guided experience to connect with nature and people this Wednesday, July 8 at 12:15pm.… h
ttps://t.co/LSvWrc0t1B
4 days ago.
Who's ready to work those muscles and get moving? 💪 Join us tomorrow, July 7 at 12:15pm, for our virtual 'Lunchtime… h
ttps://t.co/RzDYGeipFY
4 days ago.
Achieved Milestone
Fundraising