Micro Electro Fabrication Facility
With the ability to fabricate devices as small as one-millionth of a metre, the new Micro Electro Fabrication facilities at UBC's Okanagan campus provide state-of-art tools for a new generation of engineering students. The labs and faculty also create solutions for wide scope of industry and community partners.
Related Content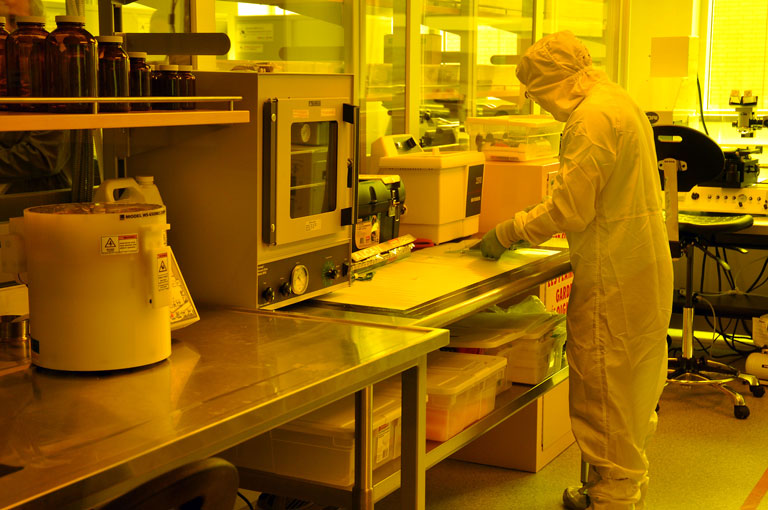 Associated Campus
Okanagan Campus
Twitter
RT @TheCdnAcadofEng: @ubcengineering Prof Charles Haynes, #FCAE is an internationally recognized authority on downstream processing of biol…
about 2 hours ago.
RT @GeeringUp: We're helping to advance #womeninengineering through @INWED1919 on June 23rd! #INWED18 #RaisingTheBar h
ttps://t.co/3FY7v6CAz…
about 2 hours ago.
At a young age, Ephraim had already begun tinkering with electronics — from underwater ROVs to RoboCup Soccer compe… h
ttps://t.co/OUxRstdRbe
about 3 hours ago.
RT @HexagonMining: Hexagon Mining Scholarship recipient and @ubcengineering student Brandon Johnson is featured in Miners of Tomorrow. Chec…
about 22 hours ago.
Jack Park reminds us that "your goal isn't to graduate from university, it's to find out what you are passionate ab… h
ttps://t.co/3Da5PVVJbX
1 day ago.
"Believe in yourself: stay humble, but realize you are great!." Megan urges students to take all the opportunities… h
ttps://t.co/r55TLz4RNi
2 days ago.
Zack Eberwein (BASc '17, Mechanical Engineering) and his company Embrace Orthopedics will be participating in MedTe… h
ttps://t.co/QFIZMOsHRa
2 days ago.
RT @SFUteachlearn: Learn how to integrate a team-based learning approach (and enjoy some time exploring Vancouver Island) this August 20-22…
2 days ago.
Combining his interest in construction, project financing and law, Tanveer Singh chose Civil Engineering.… h
ttps://t.co/stMFlgheyU
7 days ago.
Our Rising Star Angelica Reyes values how her #UBCEngineering degree challenges her to solve the unconventional.… h
ttps://t.co/oxwLjZLN1o
8 days ago.
Achieved Milestone
Building Opening