Micro Electro Fabrication Facility
With the ability to fabricate devices as small as one-millionth of a metre, the new Micro Electro Fabrication facilities at UBC's Okanagan campus provide state-of-art tools for a new generation of engineering students. The labs and faculty also create solutions for wide scope of industry and community partners.
Related Content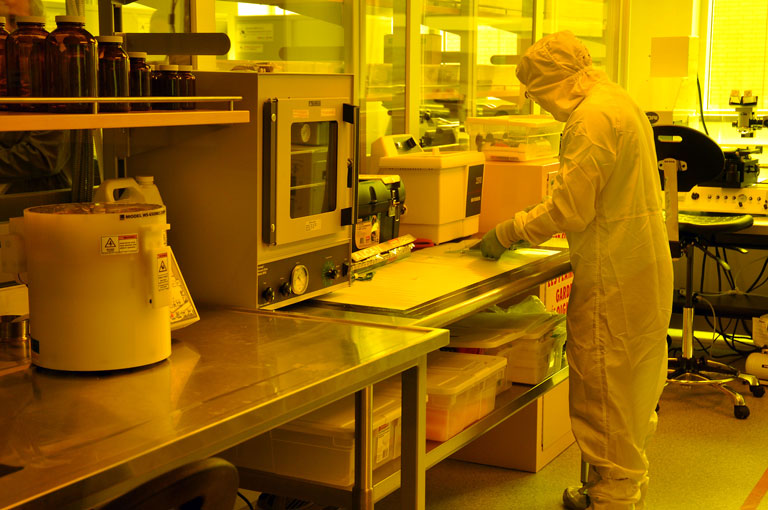 Associated Campus
Okanagan Campus
Twitter
RT @UBCOSOE: Never one to let an opportunity pass him by, Ilija Hristovski used a networking opportunity at UBC Okanagan's Aerospace Indust…
3 days ago.
Every year, 1.25M people die in road crashes worldwide. Leading international experts including @UBCCivilEng prof T… h
ttps://t.co/jWp0qwNiT9
4 days ago.
RT @UBCGradSchool: Join us Nov 18 from 5-7PM for a screening of two UBC graduate student short films! All proceeds benefit @UBCUnitedWay. R…
4 days ago.
RT @ubcappscience: Want to learn about LS9, Inc, a biotech company that uses synthetic biology to produce a broad platform of chemicals? Th…
4 days ago.
The UBC International Road Safety Symposium begins today! Featured speakers include @UBCCivilEng prof Tarek Sayed a… h
ttps://t.co/e9w6GHjtJC
4 days ago.
RT @GeeringUp: Looking for part time work? Love science, tech, engineering or math? We're hiring clubs instructors to teach STEM activitie…
5 days ago.
RT @BME_UBC: Our Engineers in Scrubs students hard at work making the world a bit more accessible! Thrilled to be partnered @praxis_sci!…
5 days ago.
RT @BME_UBC: #BME Students chatting with some future Biomedical Engineers with a glimpse of the UBC BEAR Bionic Arm waving hello @sciencewo…
5 days ago.
RT @EngGeoBC: Spots still available for our upcoming Fall Municipal Facilities Tour and Networking Event on November 21. Register today: h…
5 days ago.
Achieved Milestone
Building Opening