Micro Electro Fabrication Facility
With the ability to fabricate devices as small as one-millionth of a metre, the new Micro Electro Fabrication facilities at UBC's Okanagan campus provide state-of-art tools for a new generation of engineering students. The labs and faculty also create solutions for wide scope of industry and community partners.
Related Content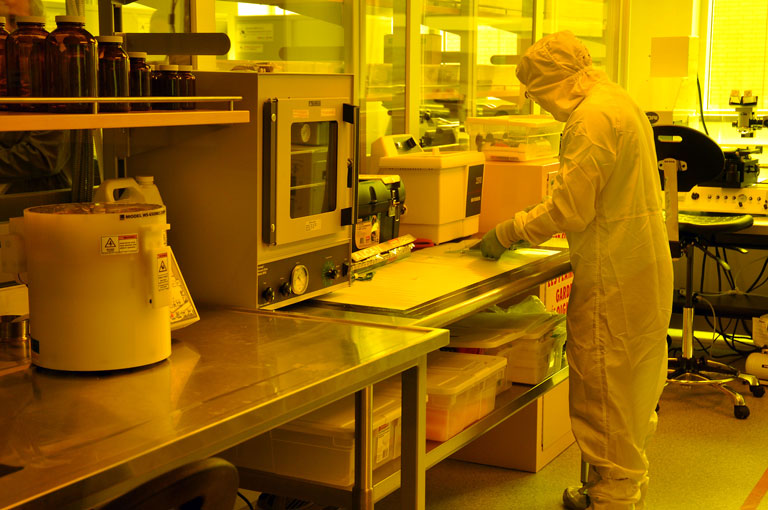 Associated Campus
Okanagan Campus
Twitter

Congratulations to Third Quadrant Design (TQD) for being named a Grand Champion and placing third at the 2023 US… h
ttps://t.co/fFjuJoPmLV
4 days ago.

Congratulations to #UBCEngineering Prof. Peter Ostafichuk, on receiving the @EngineersCanada 2023 Medal for Distinc… h
ttps://t.co/EoELa1X3X7
4 days ago.

Take the first step to accelerate your #engineering career! Sign up for the MEL online information session on June… h
ttps://t.co/F6vg1XEHHx
4 days ago.

⚙️ "I realized how broad electrical engineering is. You were not confined to one type of work and can branch out in… h
ttps://t.co/r2pa4sq7Qh
5 days ago.

🤔 Not sure what to study? Start by identifying your passions and abilities! If you are a problem-solver who uses… h
ttps://t.co/rdRzvV8pWd
7 days ago.

#UBCEngineering researchers are partnering with @TEBOGroup to accelerate innovation and bring safer, more energy-ef… h
ttps://t.co/WGtW2f2QHY
19 May, 23

Meet Max! He sees the world from a different perspective. As a full-time manual wheelchair user, this @SBME_UBC stu… h
ttps://t.co/gcbxaoUpi9
19 May, 23

Few people can claim, as Colin Harris can, to have been part of a team that contributed to the evolution of the Int… h
ttps://t.co/LMD6sqTBvL
17 May, 23

RT @nbanthia: University-Industry Collaborations are a bedrock of innovation and commercialization in #Sciences and #Engineering. Here's…
15 May, 23

RT @ubcappscience: Congratulations to Dr. Anthony Lau @CHBEUBC whose research - turning crop residues that can't be sold into valuable, car…
12 May, 23
Achieved Milestone
Building Opening