Micro Electro Fabrication Facility
With the ability to fabricate devices as small as one-millionth of a metre, the new Micro Electro Fabrication facilities at UBC's Okanagan campus provide state-of-art tools for a new generation of engineering students. The labs and faculty also create solutions for wide scope of industry and community partners.
Related Content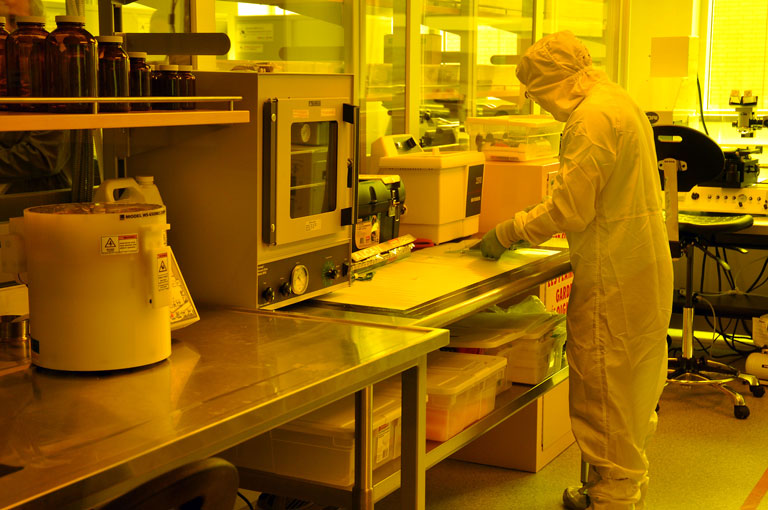 Associated Campus
Okanagan Campus
Twitter
RT @loubosshartubc: Vard $1.5 million gift advances marine engineering research and learning at UBC h
ttps://t.co/neXUOyWVdo
via @bcshippin…
about 18 hours ago.
RT @Canada: #DYK that UBC, BC Cancer the Vancouver Coastal Health Research Institute have made huge strides in cancer research with the dev…
about 18 hours ago.
Congratulations to Curtis Berlinguette and his colleagues on their recent paper in Nature Materials! @CHBEUBC… h
ttps://t.co/w9yC6BUY74
about 18 hours ago.
The @UBC campus as an example of how #sustainedgrowth can happen alongside actions that significantly reduce greenh… h
ttps://t.co/ppdvhawLAP
7 days ago.
Celebrating International Women's Day with Women in Engineering (WiE) @WiEUBC @UBC #IWD2019… h
ttps://t.co/lgGvMQSTgI
8 Mar, 19
It's #internationalwomensday a day for us to reflect on how far we've come to close the gender gap and our journey… h
ttps://t.co/THmSIx47ko
8 Mar, 19
Gender-neutral job openings, female-focused scholarships and diversity outreach are changing the industry's image:… h
ttps://t.co/1pOk4QT8Mp
8 Mar, 19
Happy International Women's Day! Today @engcite is highlighting our women engineering students to share their exper… h
ttps://t.co/vJP6YUDA1n
8 Mar, 19
Happy International Women's Day! Join the Faculty of Applied Science in celebrating the amazing women around us.… h
ttps://t.co/Y4HSHiqZNx
8 Mar, 19
Do you LOVE potato chips? Celebrate National Potato Chip Day on March 14 with Dean Rickey Yada of UBC Land and Foo… h
ttps://t.co/ZPMNXPYl8n
7 Mar, 19
Achieved Milestone
Building Opening