Micro Electro Fabrication Facility
With the ability to fabricate devices as small as one-millionth of a metre, the new Micro Electro Fabrication facilities at UBC's Okanagan campus provide state-of-art tools for a new generation of engineering students. The labs and faculty also create solutions for wide scope of industry and community partners.
Related Content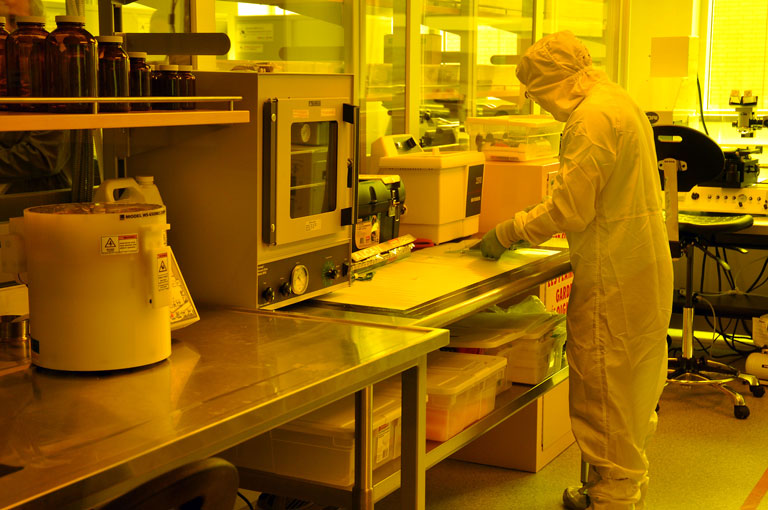 Associated Campus
Okanagan Campus
Twitter
Survey co-conducted by the Norman B. Keevil Institute of Mining Engineering at UBC on the effect of electrification… h
ttps://t.co/bS3NI0pAIj
4 days ago.
RT @JamesDeanAPSC: Congratulations @Thunderbots on your First Place finish at Robocup this year in Sydney, Australia! Very Proud of an amaz…
6 days ago.
RT @ubcrocket: UBC Rocket hot fired yesterday, making us the first Canadian student team to hot fire a liquid fuel rocket engine! Thank you…
6 days ago.
RT @JamesDeanAPSC: Thanks Dr. Etmannski for your leadership in environmental engineering. Environmental Engineers never need to ask if the…
12 Jul, 19
RT @ubcappscience: Ice Cream Fact of the Day! Hawaii is home to an, "ice cream bean," fruit that tastes like vanilla ice cream! UBC Celeb…
10 Jul, 19
RT @GeeringUp: This past year, Geering Up teamed up with the community of @musqueam and @BritSecondary to create our very first InSTEM proj…
10 Jul, 19
RT @CBR_UBC: If you want to learn more, check out Dr. Stefanie Novakowski's (#KastrupLab) #CBR_UBC blog profiling Dr. Karen Cheung, one of…
10 Jul, 19
RT @EngGeoBC: Do you know an exemplary undergraduate student currently studying #engineering or #geoscience at a #BC University? Why not…
10 Jul, 19
RT @JamesDeanAPSC: Thank you Prof Dunbar continuing your inspiring and enthusiastic leadership of the #UBC Dept. of Mining Engineering. @ub…
10 Jul, 19
RT @ubcnews: .@UBCEngineering earthquake expert and Prof. Carlos Ventura on how Canada is preparing for the next big earthquake: h
ttps://t.…
10 Jul, 19
Achieved Milestone
Building Opening