Professors Share Prestigious Cosmology Prize
Dr. Mark Halpern and Dr. Gary Hinshaw of UBC Physics and Astronomy have been awarded the 2012 Gruber Cosmology Prize for their work as part of a 2003 NASA mission that pinpointed the age of the Universe at 13.75 billion years. They will share the $500,000 award with NASA Wilkinson Microwave Anisotropy Probe (WMAP) lead Charles Bennett and other colleagues from the team.
Related Content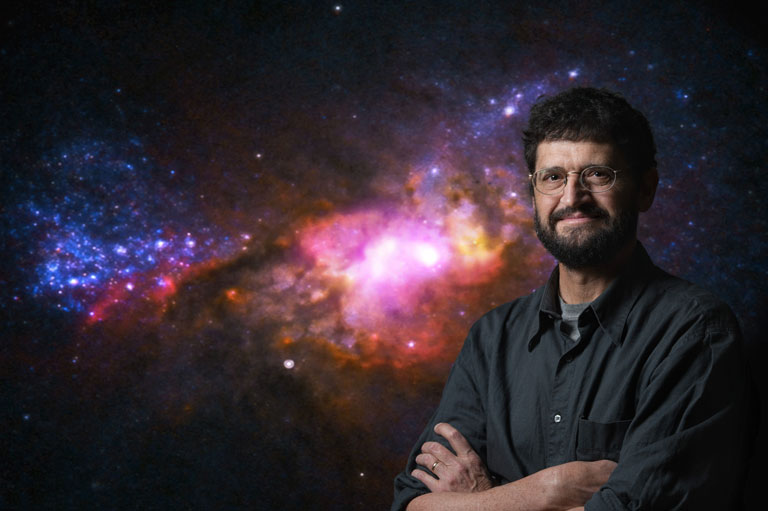 Associated Campus
Vancouver Campus
Twitter

UBC Marine Mammal Research Unit director, Andrew Trites, cautions on aquarium orca's ability to re-adapt to the Pac… h
ttps://t.co/4Oqw7yZfEv
about 17 hours ago.

Join Dr. Karen Miga, one of @TIME's 100 most influential people of 2022, to discuss building a more sophisticated a… h
ttps://t.co/OKkdRknLal
about 17 hours ago.

This Saturday the Beaty Biodiversity Museum unveils the wonderland of Mathemalchemy—a unique collaborative art exhi… h
ttps://t.co/pCoSXhz6gy
about 22 hours ago.

RT @UBCCommEngage: We are pleased to announce the recipients of #UBC's 2022-23 CUES Fund! Receiving up to $25,000 each, these projects are…
1 day ago.

Research shows that our planet's biomass – the material making up all living organisms – is concentrated at either… h
ttps://t.co/Fka42i9sGb
1 day ago.

Congrats to UBC Science student Emilie Wang & @ubcmsl's Dr. David Ng. Their projects support immigrant & refugee yo… h
ttps://t.co/0Gb0z0nIKY
1 day ago.

5 planets aligning in the sky this week. Dr. Jeremy Heyl @UBCphas tells us which ones. h
ttps://t.co/bDRiYXmnqm
2 days ago.

RT @UBCphas: "Have a safe flight" may be in question with an increasing risk of uncontrolled re-entries of rockets falling to earth. PHAS f…
2 days ago.

Life on Earth comes in all shapes and sizes, but researchers have found that some sizes are more popular than other… h
ttps://t.co/CFiRcN5Aja
2 days ago.

RT @ubcires: Doom and gloom⛈️ framing can drive people away from thinking about the climate crisis. How can we use our understanding of beh…
3 days ago.
Learn More
Achieved Milestone
Award Received